Difference between revisions of "Panaque armbrusteri"
From The Aquarium Wiki
---
Latest revision as of 13:31, 4 March 2020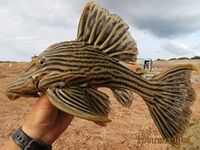 Additional names
L027, LDA077, Thunder Royal Pleco
South America: Tapajós River and its tributaries in Brazil.
Males have heavy odontal growth on pectoral fin and long interopercular spines.
Requires a spacious well filtered mature tank with good water flow. Plenty of caves are a must have for this fish.